I'm often asked by people, why to cruise along the beautiful Amalfi Coast and Capri is meant to be the highlight of a vacation in this area, why people should choose such a service?
There are many good reasons to charter a boat privately.
We all agree that mother nature blessed this outstretch of land with colours, rocks formation, incredible views and while on the sea, you can really fill up your senses with what this gift of nature has to offer.
Another reason is that you can avoid the road traffic while exploring the villages made famous and celebrated by movie makers, artists, writers, actors, models. You really make the best out of your time, escaping the crowd.
My reason is:"That in a world that goes so fast, where we connect through social media, where we are all so busy luxury is to connect with yourself and the people you love, that is where the boat experience becomes THE ULTIMATE REAL EXPERIENCE and when you do it in the beautiful setting of a UNESCO HERITAGE SITE, it means creating your memories.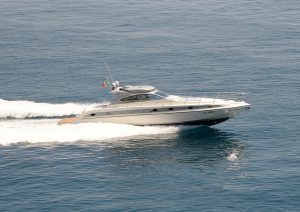 My first time on board with Premium Boat Charter was when my little one was only 3 years of age. A colleague insisted that we had to go out for dinner in a restaurant approachable with the boat. I was not so sure that I wanted to go, but he won my resistance and decided to have an evening on board with my husband and daughter on board of a 47ft Motor yacht.
As we set cruise from Amalfi port I felt at ease, worries, tiredness, concerns all disappeared. The captain spoiled us by offering drinks, little dry snacks, he and his mate really showed us all the beautiful corners we passed and stopped by, showering us with information.
We were treated like royalty, as the evening was getting chillier I was handed a pastel colour soft and light shawl to wrap around my shoulders, they told me "Signora you might feel a little cold please wear this", they even had pencils and paper for my little one. The people on board had a warm and welcoming smile, they were absolutely amazing, looking after us, making us feel welcomed and part of the crew.
My husband and I felt the same way we first saw each other nothing but our souls connecting through our eyes. Only the reflection of the moonlight on the water, the gentle relaxing noise of the boat cutting through the waves, it was almost like my feelings, my thoughts and my brain were having a "deep relaxing reinvigorating massage". A blast of positive, warm emotions took over of myself. Our little one happy and smiley when the captain had her seated next to him pretending she was driving the boat following imaginary dolphins.
We had a fantastic dinner in a restaurant by the sea, the evening couldn't turn better.
The boat gently rocked my little one until she felt asleep on the way back.